We're going to wrap up Monterey Historics with a post of some IMSA awesomeness...
---
• can am • ford • lola • lola t70 • mclaren • mclaren m6b • monterey historics • shadow dn4 • shelby king cobra • uop shadow
We're missing the sights and sounds at Laguna Seca after an epic trip to Rennsport Reunion...
---
• 240z • 280zx • datsun • datsun 510 • italdesign • italdesign gtr50 • nissan
Monterey Motorsports Reunion celebrated 
Nissan
 as the featured marque this year. Here's some quick shots I took of some cars on their parade laps.
---
• imsa • mazda • mazda 787 • mazda 787b • mazda rx7 • monterey car week • monterey historics 2018 • rx-7 • rx792p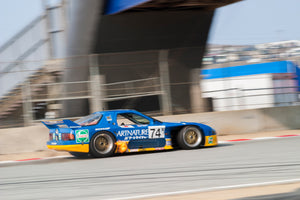 There isn't too much better than having 
Mazda's
 rotary race cars screaming past you at the track. I would have loved for a rotary only run group so we could hear pure awesomeness...
---
• 240sx • 300zx • audi • audi 200 • camaro • chevrolet • chevrolet beretta • corvette • cunningham racing • ford • ford mustang • imsa • imsa gts • mazda • mazda 787 • mirage • mirage m12 • monterey historics • monterey historics 2018 • monterey motorsports reunion • nissan 240sx • pontiac • pontiac firebird • porsche • porsche 962 • protofab • rolex monterey motorsports reunion
It has been a crazy week getting ready for Japanese Classic Car Show. JCCS was a crazy event  yesterday. For Part II of Monterey Historics coverage, we're jumping straight to the photos!  How often do you get to see a Mirage M12? In my 6 years of attendance at Monterey Historics, this is the first time I've seen it! Here's to hoping it races again next year!   I have a soft spot for Nissan 240SX's. Especially this IMSA GTU 240SX.  How come the S14 didn't get the same treatment as the GTU 240SX? It would have been awesome to...